They are done!!
My first "real" socks ever.

Yarn: Knitpicks Simple Stripes, in the Sunset colorway
8 sts./in, size 1 dpns

Pattern: Charlene Schurch's Garter Rib Socks pattern from Sensational Knitted Socks. However, I omitted the garter rib and did plain stockinette.

Time: approximately 3 weeks. I don't really remember when I cast on.

Notes: They fit Bean's foot perfectly; the cuffs are slouchy because she wanted ankle socks, and I didn't adjust the number of stitches at the cast-on. I think that if I had knit these to fit at her calf, they would probably be OK -- but I'm not positive. She likes them, regardless.

They are "fraternal" socks, in that the stripes don't match ... I tried, and came within 2 rows of matching, but then the 2nd ball of yarn did a weird thing and changed pattern on me. It's OK, she's been wearing mismatched socks (intentionally) since Christmas, so these are not any different.

Point of interest: I finished sock #1 but did not graft the toe before finishing sock #2. So the other night, I had 2 socks with just the toe graft left. Coincidentally, I had that day received in the mail Lucy Neatby's Sock Techniques DVD. On that DVD, she demonstrates her "toe chimney" method of finishing.

Being that these socks were for a non-picky 7 year old, I decided to experiment. The first sock was finished using the toe chimney method. The second sock was done in the traditional Kitchener stitch.

Here are the results (sorry the photos aren't clearer; I hope you can see the difference).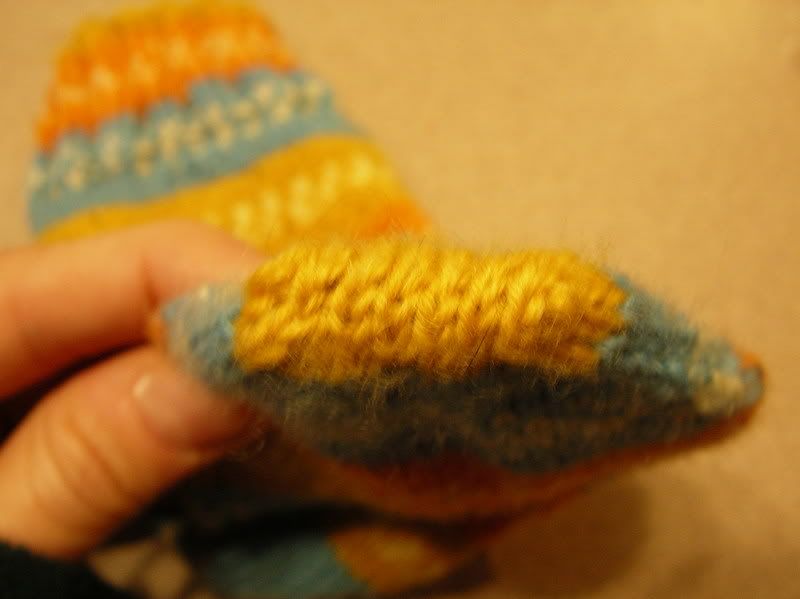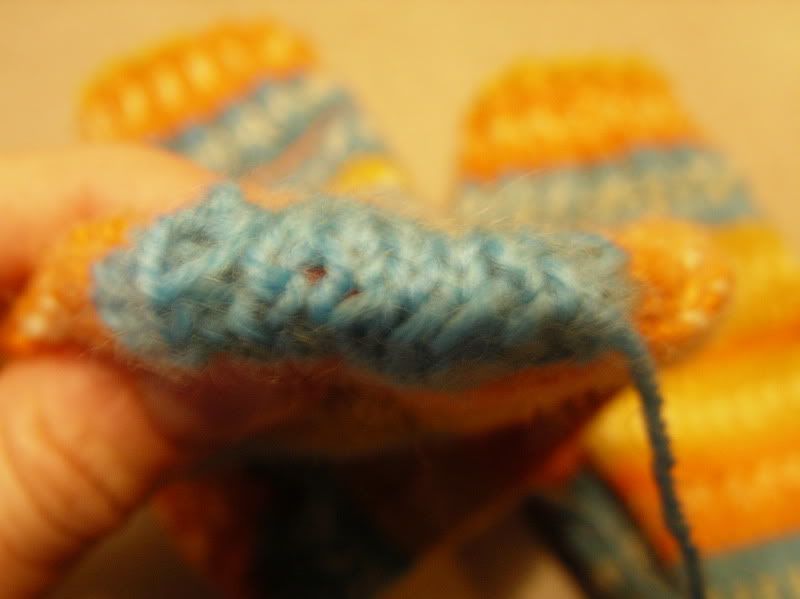 photo 1: toe chimney method
photo 2: kitchener stitch method

Prior to this, I had only kitchenered worsted weight toes. They came out just fine. So when I was working the toe chimney, I was thinking that it was too fiddly, was taking too long, and might not be worth the extra effort. Then I kitchenered the second toe. What a mess. I was so afraid of pulling the stitches too tightly that I left a huge gap in the first stitches. If the Bean had worn it like that, she would have put a toe through it on the first wearing.

I was later able to adjust the stitches by tightening along the entire toe, which ended up taking even longer than the toe chimeny method. And frankly, Kitchenering on the tiny needles with tiny yarn was far more fiddly than the chimney method. So I think that from now on, it's a toe chimney for me.